Coffee is something that is a lifestyle choice to a lot of people. It's hard to beat a great tasting cup of coffee. even harder when it's made in a top quality mug! Take a look at these ten great coffee mug designs for some gift inspiration.
1. The Bathing Girl Tea Cup Set
The Bathing Girl Teacup set can be used for tea and coffee. Featuring a drawing of a bathing girl, immersed "in your drink", with her undergarments conveniently discarded on the spoon that comes with the set, this is a quirky and funny cup and saucer set that is classy and understated, but still a little cheeky, making it an ideal gift.

2. The Cookie Monster Mug
This Cookie monster-inspired mug features a convenient cookie holder at the bottom that will hold a couple of small cookies, warming them with the heat from your tea or coffee, and collecting crumbs too. It's perfect for the cookie lover in your life.

3. Creature Cups
If you know someone who loves crazy and creepy creatures. whether a role playing fan or just someone who enjoys the fantastical and the strange, then you should take a look at these creepy creature mugs. These big mugs have sculpted creatures inside them, that are hidden away by your deep, dark coffee. Drink away that coffee lake to reveal an octopus, a crab, or something else entirely. What lies beneath that mocha surface? Who knows? We know one thing. You'll have fun finding out!

4. The Floating Mug
This optical illusion mug is sure to delight magicians and those who can appreciate design and creativity. The mug is carefully crafted so that the handle touches only on one side, and suspends the actual container part of the mug. When viewed front-on, it looks like the mug is floating above a coaster-like stand. It's a deceptively simple illusion, and it's sure to turn heads in the break room.

5. The Lap Mug
Do you ever find yourself drinking while reclining in a lovely chair, but too far from the coffee table to be able to conveniently put your cup down? That's exactly what the Lap Mug hopes to solve. This handy mug has an angled base. This means that when you're sitting down with your legs together, the cup can 'slot' into your thighs, letting you use your lap as a table. The thick base means that it won't feel too hot when you balance it, and you can keep your hands free for other, more important tasks such as reading a book or playing your favourite console game. It's a brilliant invention! Of course, it's probably not a great idea if you're the sort that likes to sit cross-legged or who likes to fidget, but the base is stable enough that you can use it like a normal mug if you need to.

6. Embrace Me Lover's Mugs
These cute mugs make a great gift for a new couple, or as an anniversary present. The set contains two mugs, one feminine, one masculine. The mugs sit together with 'arms' that make them look like they're hugging. These cute mugs are a great reminder for each person, something that makes you think of your partner, and a great way to say "I miss you and I care about you". They are also perfectly sized to hold a nice cup of coffee or tea, and that's the most important thing really, isn't it! Whether you're buying for a wedding, a long-term couple, or as a valentine's gift, it's hard to go wrong with these mugs.

7. Custom Porcelain Travel Mug
As more and more companies are tightening up on the idea of disposable coffee mugs, it's becoming increasingly important to have a good travel mug to use for your coffee to go. There's just one downside to many of the travel mugs that are on the market today; they are made from plastics that contain BPAs, and these BPAs can leech into the water in the mug, then get into your bloodstream, potentially causing adverse effects if you drink a lot of coffee. The good news is that there are some BPA-free alternatives out there, and this porcelain travel mug is just one such example. It's easy to clean and perfect for keeping in your car. It features a silicone lid that is food-safe, and the mug itself is double-walled, so you can be confident that the coffee will stay warm. You can personalize the mug with up to two lines of text, so spent a moment to think about the message that you'd like to include.
8. Lock-Cup
Do you get sick of people in the office taking your coffee mug when they can't be bothered to do the washing up? With this creative mug that will never happen again. The lock-cup is a mug that you can 'lock', rendering it unusable by anyone else. It comes with a key that is a plug which sits in one side of the mug. Insert the key when you want to drink, then when you're done and you've put the cup away, take the key with you leaving the cup with a hole in one side so it can't be used for drinking out of. It's a great gift for a passive aggressive colleague that's always complaining about people taking their stuff from the kitchen. and who knows, it could actually give you some peace at work too!

9. Grenade Mug
The grenade mug is just a bit of fun, but it sure is fun! Styled like a grenade, and with a lid for the pin area, this is perfect for the military lover or war gamer in your life. Available in black or white, this is a stunning looking gift that has a practical use too since the lid helps to keep your coffee warm.

10. Prescription Mug
This custom prescription mug is a creative, cute gift that comes in two versions. one for tea lovers and another for coffee lovers. It is a generously sized mug that has a prescription style label that details the benefits of coffee (or tea), as well as how often it should be consumed. You'll be pleased to read that the doctors' orders for your favorite pick-me-up are to drink it as often as desired until you're feeling human. and ideally wide awake too.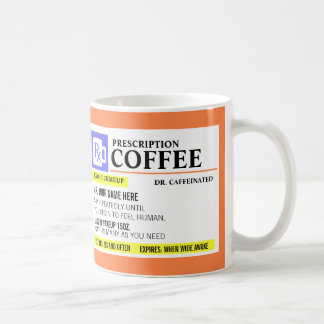 There are many other custom mugs and creative cups or tea and coffee sets to choose from. Whether you're a game of thrones lover, an athlete, a teacher or doctor, or a dedicated gamer you will find something that suits you. Thanks to some advances in technology you can now get custom heat changing mugs, as well as branded ones. How about a coffee mug that reveals lightsaber blades when you fill it with coffee? That doesn't take the Force to do these days! Whatever you're looking for as a Christmas, Birthday or "just because" gift or as a treat for yourself, you'll find it online these days.
Of course, if you're getting a great mug you probably want to have something nice to drink out of it – so why not pick up a good coffee filter or a Hario V60 Dripper so you can make some delicious coffee to have in your new cute, quirky or fun mug. There's something about drinking out of a mug for the first time that makes the coffee taste extra special, so make it a drink that's worth it.
Thank you for reading our article. Hope you enjoyed it. –FoamAroma